As you all know, I have been wanting to see this movie so badly since I read both 'Me before you' & 'After you' by Jo Jo Moyes last week, so when a friend of mine told me she had a copy of it, I was very quick to ask her if I could borrow it.
So I guess you wanna know what I thought of it?
I…..LOVED IT!!! I thought the movie followed the story extremely closely, almost word for word, which I always like to see.
Obviously not everything from the book was included in the movie (they never are), otherwise the movie would be 5 hours long, but the main focus points from the book were in there, which was great to watch come to life.

The Characters
They really couldn't have chosen better actors to play these amazing characters. They all suited them to a T and I completely forgot that Steven Peacock was playing the role of Nathan – that's how long ago I watched the preview to this movie but he did a good job of it, the only thing I had a slight issue with was the fact that his Aussie accent maybe clashed a little with the British accent. He was always a little hard to understand, even in his Aussie roles as he tends to slur his words and speak very softly but other than that all characters were not as I had pictured them at all (as usual) but played their parts well.
The character of Will's sister, Georgina wasn't in the movie at all, it wasn't even noted that he had a sister, which I guess is a little strange but having now watched the movie, her presence wasn't really needed in it. It done perfectly well without her.
I loved that Will's sarcasm was portrayed brilliantly by Sam Claflin and that Emilia Clark brought Louisa's witty manner to life and put him in his place when need be.
One issue I have is the movie image (see above). This is the image described in the book where they are at the wedding and she is wearing the red dress that Will loves and she sits on his lap so they can dance. But in the movie, while this scene does actually occur, she isn't however wearing this red dress! She is in a light blue one (see below).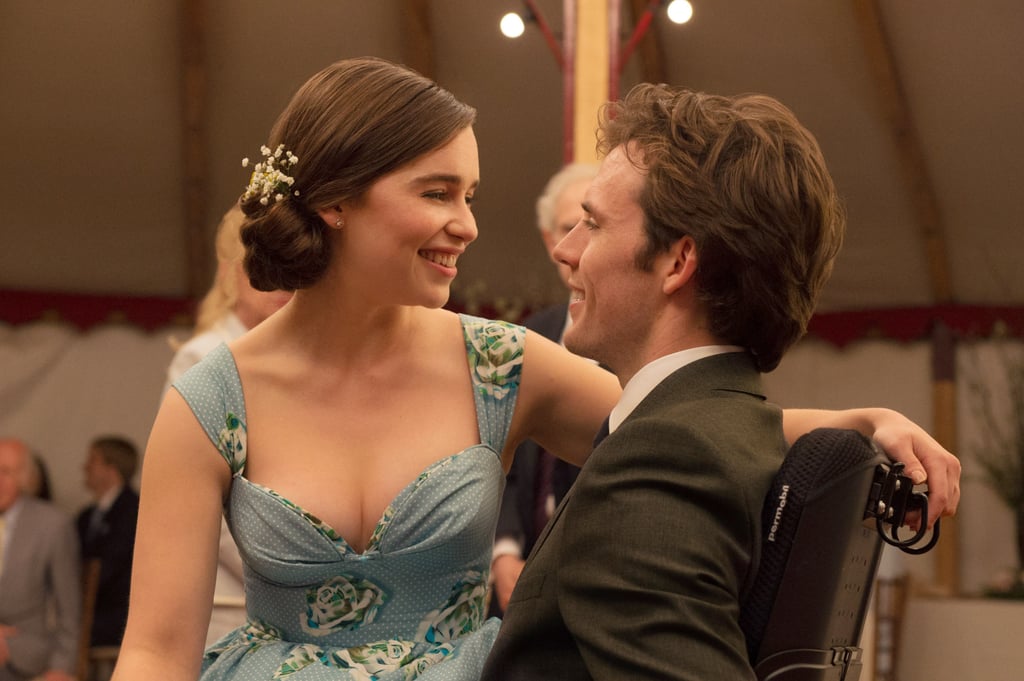 I was a little disappointed about this scene for that reason – why use that scene for the poster but not in the movie?
Overall, I thought the movie did the book great justice – I loved watching every sentence and every scene come to life.
The stories from the book that weren't included in the movie, as much as I would have liked them to be in there (like their tattoo's), I guess they weren't a necessity and it did well even without them.
This movie in now in my favourite top 5 and even hubby (who at first refused to watch it) loved it by the end- bonus!
What were your thoughts after seeing the book come to life on the big screen? I would love to know if you loved it or hated it.
MeLzY