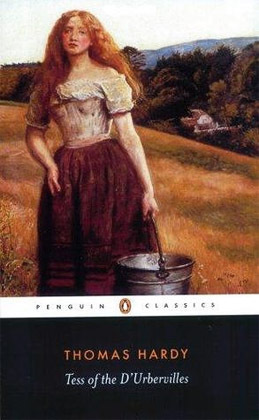 Goodread's Synopsis: When Tess Durbeyfield is driven by family poverty to claim kinship with the wealthy D'Urbervilles and seek a portion of their family fortune, meeting her 'cousin' Alec proves to be her downfall. A very different man, Angel Clare, seems to offer her love and salvation, but Tess must choose whether to reveal her past or remain silent in the hope of a peaceful future.
---
After reading this book I have one very important question with regard to the end: What the hell?!?!?! What the hell happened to Tess?
I have to say, the ending to this story was quite disappointing for the fact that for the majority of the book, Tess loved Angel and when he left her after their wedding, she was completely devastated for the one year he was gone for and throughout that whole time she wanted nothing more than for him to come back to her or send for her to go to him. But the moment he does come back for her, she goes and does the most stupidest thing that she knows will guarantee a life without him! How stupid can she be! Why didn't she just leave Alec and go back to Angel without killing anyone? She was after all still married to Angel, so it wouldn't have been an issue. And Angel had finally decided that he was OK with her past and accepted it and forgave her for it, so there really was no need for Tess to kill Alec if she had thought that through for half a second!
And then the last chapter was all useless gibberish. What happened to Tess? Was she executed? Locked up for eternity? Was Angel and Liza-Lou married now? I need specifics please Thomas Hardy! I'm sure it is written somewhere within the Old English words and I probably can't understand it, so if anyone was able to read between the lines, can you please fill me in?
As for the rest of the story, I found Tess to be quite a depressing character, always going on about ending her life and not wanting to live-saying this to her lover for goodness sake! All because she had a baby with another guy. And then she finally tells Angel the truth about her past and he totally flips out!  It's not like he became an instant father, seeing as the poor baby died long before he even came on the scene. It's all because of his reputation. Oh how times have changed!
Which brings me to my next question – how did Tess even end up sleeping with Alec? She despised him throughout the whole book, so when exactly did she succumb to him? Or was it against her will? That fact wasn't made very clear either (for me).
Overall, it was a good read but it seemed to have a lot of useless words in it that didn't do anything for the story at all. If they weren't in there the story still would have made sense and the book would have been a lot shorter.
I wouldn't say that I loved the book because I didn't. I really just read it to settle my curiosity about such a well known novel and I am glad to have done that.
❤ MeLzY