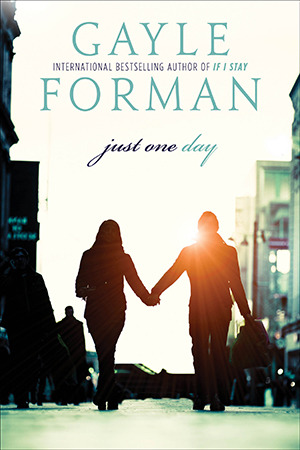 GOODREADS SYNOPSIS: Allyson Healey's life is exactly like her suitcase—packed, planned, ordered. Then on the last day of her three-week post-graduation European tour, she meets Willem. A free-spirited, roving actor, Willem is everything she's not, and when he invites her to abandon her plans and come to Paris with him, Allyson says yes. This uncharacteristic decision leads to a day of risk and romance, liberation and intimacy: 24 hours that will transform Allyson's life.
A book about love, heartbreak, travel, identity, and the "accidents" of fate, Just One Day shows us how sometimes in order to get found, you first have to get lost. . . and how often the people we are seeking are much closer than we know.
---
This is book one in a trilogy and it tells the story from Allyson's point of view. How she met Willem and spent one day with him and felt a connection so strong that she spent the whole year after that trying to track him down again after they got separated.
It's a story that people who believe in fate and accidents will love to read because that's what these two character's rely on and believe in.
This book is also great for Shakespeare lovers as it has a lot of verses and references throughout it.
It's a nice little novel to read in a day, quite an easy read, not much concentrating is needed except where the Shakespeare verses come into it.
It ends quite abruptly, making you want to start book two immediately to find out what happens next.
I found Allyson to be a bit careless though for that fact that she took off for a day with a stranger to a Country she had never been to and couldn't speak the language. It's not a good example for it's readers and a bit far fetched really, but it is fiction and she was seizing the day and becoming someone new.
The only thing that annoyed me throughout this novel is the amount of mistakes that the so called editor didn't pick up on! From words doubled up to words missed and misspelled words, it gets very frustrating by the end.
Have you read this book? What did you think of it?
Stay tuned for book two's review!
❤ MeLzY